Detailed description about semi-automatic gluer for corrugated carton:
1.1). Application:
The double pcs stitcher is used to glue corrugated carton.
1.2). Main characteristics
1. Fast change size within one minute
2. Easy operation, experience is not required
3. Machine speed: 40 m/m
4. Carton width plus height can glue 240mm at least.
5. This machine is only operated by two workers, carton can be fed 2000~2500 pcs per hour.
1.3). Main technical data:
| | | |
| --- | --- | --- |
| Item | Description | Model AXD-030 |
| 1 | Max. size (L+W)X2 | 2800mm |
| 2 | Min. size (L+W) | 600mm |
| 3 | Max.size (W+H)x2 | 1515mm |
| 4 | Min. size (W+H) | 240mm |
| 5 | Height of sheet feeder | 750mm |
| 6 | Driven motor | 5HP |
| 7 | Machine total length | 4500mm |
| 8 | Machine total width | 2100mm |
| 9 | Machine weight | 2000kg |
| 10 | Machine speed | 40m/min |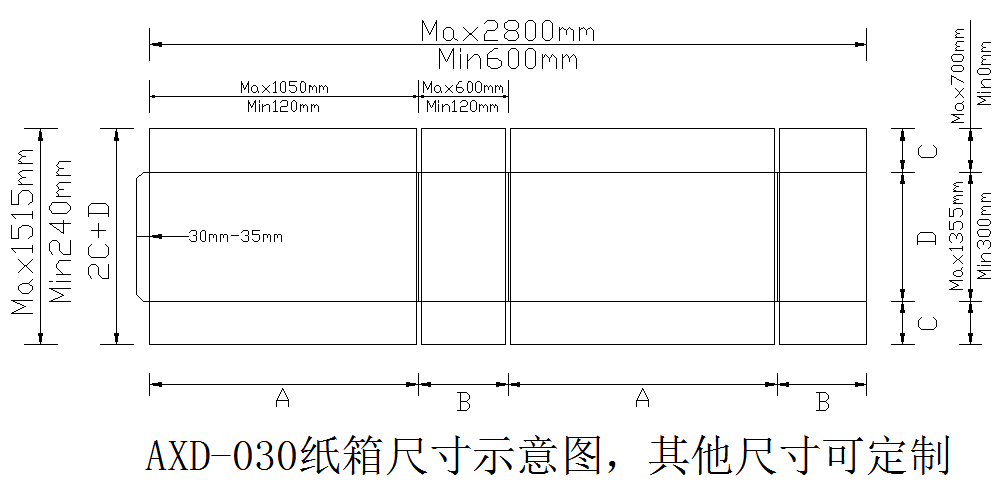 【Previous】:NO
【Next】:NO